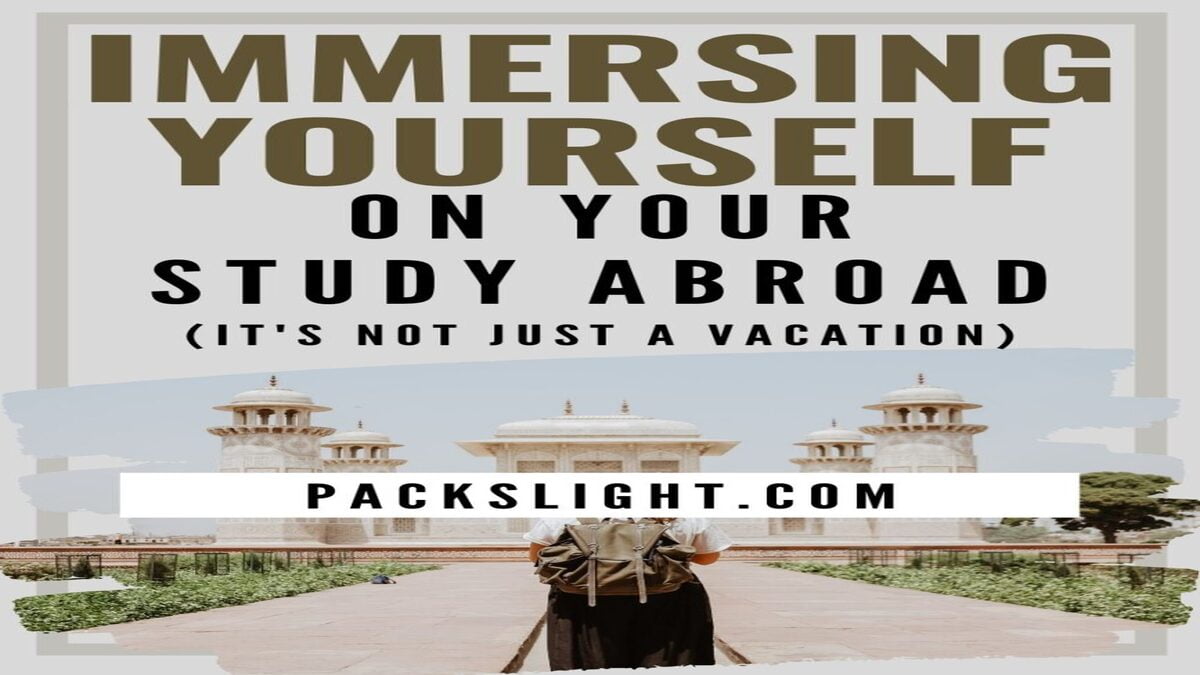 Cultural Immersion Tips for Getting the Most Out of Your Next International trip
Read Time:
7 Minute, 44 Second
Cultural Immersion Tips for Getting the Most Out of Your Next trip.
Whether you are planning to study abroad or participate in an internship program, it is important to remember to be culturally tolerant. If you want to have a successful experience, you must learn to let go of your own culture and make friends with the locals. This way, you will be able to experience the country and gain an appreciation for its people and culture.
Learn about the culture
When you want to participate in a cultural immersion program, it is best to learn about the culture before you go. This will help you prepare for the experience and get the most out of it.
During the immersion process, you'll be challenged to reflect and learn about yourself and the world around you. You'll be exposed to different perspectives, which will help you develop critical thinking and cultural awareness.
Many studies have shown that participants experience changes in self-development after participating in a cultural immersion program. These changes include increased global awareness, stronger respect for other cultures, and greater motivation to engage in reflective learning.
While some study participants struggle to maintain these changes, many continue to improve and progress on their journey of transformation. The study findings indicate that participants develop transformative learning in stages.
Mezirow's perspective transformation theory can be used to explain how people develop their perspective. According to Mezirow, individuals develop their perspectives through a lifelong process of socialization and interaction.
In her article on the study, Illeris argues that the transformational learning process begins with a subjective experience. Participants need to be open to change and accept the process as it unfolds.
To help students better visualize the culture of their host country, you can ask them to listen to music, watch movies, and wear costume. You can also ask them to talk about their experiences during the cultural immersion.
Regardless of what you do, it's important to remember that the culture of your host country can impact your life in a variety of ways. It can shape your character, your perspective, and your identity. If you aren't prepared to deal with cultural differences, you may have unrealistic expectations.
Let go of self-consciousness
In order to experience the benefits of cultural immersion, participants must let go of their self-consciousness. Despite the importance of letting go, some people find it difficult to do so. This is due to the difficulty they have in adjusting to a new culture.
Fortunately, studies show that cultural immersion can have a positive impact on the self-identity of the participants. However, few studies have looked at how this process transforms the way participants perceive themselves.
Mezirow's perspective transformation theory explains how people change their views when they experience new situations. The theory suggests that people develop perspectives through their lifelong interactions with other people and cultures. It also explains how people's habitual expectations are transformed.
One of the most important aspects of cultural immersion is exploring the roots of differences. This helps people to learn how to deal with threatening realities in their host community. Furthermore, it opens up opportunities for reflection. These opportunities are essential to learning.
According to the study, cultural immersion can trigger changes in self-knowledge, motivation, and strength. It is also a key element of the construction of one's self-identity.
In a study conducted by Yan Lo-Philip et al., students who participated in a short-term study abroad program in China had a better understanding of their biases. They also demonstrated a deeper appreciation of other cultures.
Other studies show that cultural awareness can evolve in different stages. For instance, some participants exhibited epistemology during the cultural immersion phase.
Although most participants continue on the path of transformation after the immersion trip, others struggle to maintain the new attitude. Some also show a decline in their desire for transformative outcomes.
Build a good rapport with the locals
If you are looking to get to know a new country and culture, you need to build a good rapport with the locals. Fortunately, there are a few ways to do this. You can engage with locals through art, listening to music, and attending local events. By doing so, you can also gain a better understanding of the place.
One way to do this is to participate in a study abroad program. These can vary in structure and content. Some can be semester-long, while others are short-term summer programs. Regardless of the type of program you are interested in, you can learn a lot by interacting with the locals.
Another option is to travel to a place that is less traveled. Although this can be more expensive, it can also give you an immersive experience. In many cases, you'll be able to find less-formal accommodations, such as camping, rather than a hotel. Also, you can gain a basic level of proficiency in the host language, which can help you to blend in and make friends.
Another possible option is to engage in Global Service Learning (GSL). This can involve working with a local community to perform service projects. The GSL model is based on the idea of reciprocal learning, in which a group of students work with the locals to improve the lives of the community.
Aside from participating in a GSL, you can also learn about the culture by traveling to a different part of the country. This can involve visiting recommended restaurants and sites. It can also be a good idea to talk with a local about local business and local community issues.
Study abroad
When it comes to cultural immersion, students have a wide range of options to choose from. It's important to select a program that best suits your needs.
For instance, if you want to gain a deeper understanding of the host culture, you might consider studying theology in Oxford or film production in Los Angeles.
During your time abroad, you will want to make new friends and participate in sports and cultural events. You can also volunteer for a local charity. By taking advantage of these opportunities, you can gain valuable experiences and make connections that will help you later in life.
You might also want to take part in community groups at your university or college. Networking is a great way to connect with people who can provide you with advice or career referrals.
While you're at it, you might also consider learning a little bit of the local language. This can give you a leg up when you get back home.
A study abroad program can allow you to learn a new language, hone your skills and improve your resume. The best programs are the ones that allow you to get a hands-on experience. However, you'll need to be proactive.
Getting a study abroad isn't always easy. Before you leave, you should do your homework. Start by asking your advisor about your program's requirements, including the coursework and projects you can expect to complete.
Next, research your destination. Using the Internet, you should have access to a wealth of information about your chosen country or city. You can learn about the geography, history, and culture.
After you've researched the area, it's time to start planning. You should map out a course schedule and create a list of things to do. If you're looking to get a more in-depth education about the host country, you might want to join an internship or volunteer program.
Global service learning
Cultural immersion and global service learning programs help to foster global citizenship and awareness, while also helping students develop critical thinking and problem solving skills. These experiences can provide a career boost, and help to prepare you for a life in a global environment.
The process of global service learning involves educational reflections and community engagement. Through participation in a host-country service project, students learn about the issues facing the local population while helping to make a difference. Studies have shown that such experiences help participants develop cultural sensitivity, self-development, and respect for the community.
One study on the impacts of a short-term study abroad program in China found that students developed deeper appreciation for other cultures. Another found that participants experienced an increase in global citizenship after participating in the program. It is important to consider the outcomes of the experience, and to plan your internship carefully.
Global service learning programs are also ideal for students interested in environmental conservation, wildlife management, and other fields. Participants may volunteer at a conservation site, teach English to children, or perform construction or animal care work. Aside from academic credit, these programs can help students develop leadership, communication, and teamwork skills.
International Volunteer HQ (IVHQ) is an organization that places over 10,000 people on meaningful projects in more than 40 countries annually. Its mission is to promote cultural understanding and international goodwill. IVHQ is a reputable organization that provides safe, affordable, and sustainable travel opportunities for individuals.
A four-week placement with Maximo Nivel in Guatemala allows students to gain valuable experience and expand their global perspective. Students can choose to help out in local projects, participate in guided reflection workshops, and write about their experiences.