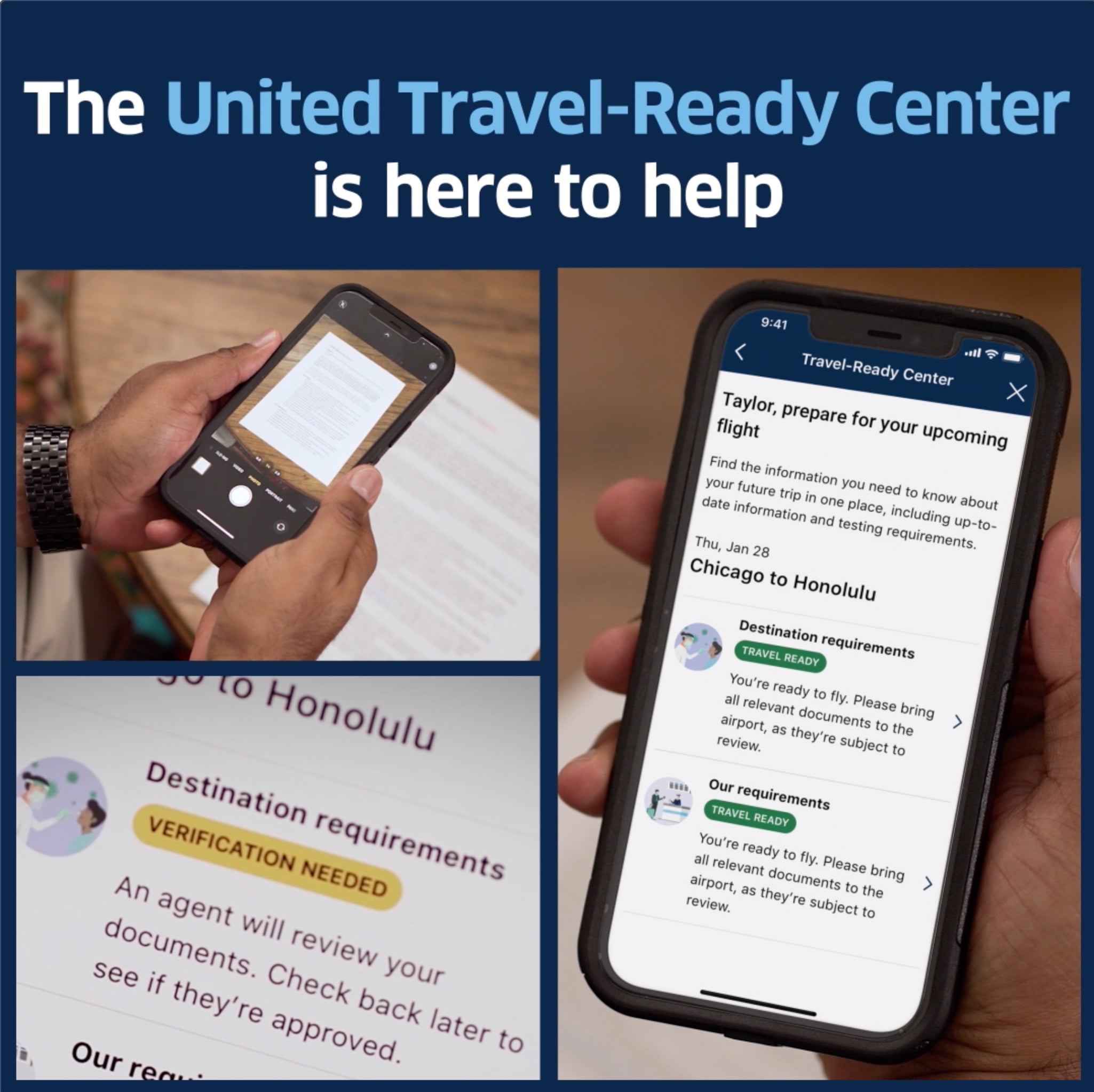 The United Travel Ready Center – Testing And Requirements
Read Time:
9 Minute, 33 Second
Whether you're traveling domestically or abroad, you can visit the United Travel Ready Center to get important information, including tips on vaccinations and the latest news from United Airlines. You can also sign up for a video chat with a United customer service agent or find vaccination testing locations at Albertson Companies and Walmart.
COVID-19 testing for United travelers
Earlier this year, United Airlines began a pilot program for COVID-19 testing. The pilot program's goal is to determine the benefits of testing before departure, including the possibility of managing entry and quarantine requirements.
Currently, United Airlines offers COVID-19 testing at airports and home. Passengers can choose to take a self-collection kit, which includes a plastic collection tube and instructions on how to take the test. Alternatively, passengers can schedule an appointment for a COVID test at one of United's local COVID testing centers.
Passengers may also be required to provide a hard copy of their test results. If you have a positive COVID-19 viral test, you must provide documentation that you have recovered from the disease.
United will also begin offering COVID-19 rapid testing at select airports. These tests will cost $250 for an in-airport rapid test or $80 for a mail-in self-test kit. Customers will receive an email invitation from Color 10 days before they travel and must return the test by the drop box at the airport.
ADL Health, CareNow, LetsGetChecked, TrustAssure, and XpresCheck are testing providers for United. You can book an appointment with one of these companies through the Travel Ready Center, a website allowing users to schedule a COVID-19 test or upload vaccinations and other travel requirements.
For people who do not want to wait in a test queue, United Airlines has also teamed up with GoHealth Urgent Care, which will administer a rapid test. This test is administered in 15 minutes, and results are returned in four to 48 hours.
In July, United partnered with GoHealth to test international flight crews at San Francisco International Airport. They will open a facility daily at the international terminal, from 9 am to 6 pm. The facility will also provide other healthcare services covered by insurance.
The COVID-19 viral test must be taken three days before the passenger arrives in the U.S. Passengers who test positive must quarantine for at least fourteen days.
Vaccination requirements for your destination
Vaccination requirements for your destination are becoming increasingly important. Aside from the obvious requirements, some countries now require travelers to have certain vaccinations to enter the country. These vaccines are designed to help protect you from infectious diseases.
To make the process simpler and more efficient, United Airlines has introduced a new feature in its mobile application. This feature allows customers to view and upload their vaccination records. These records are then reviewed and verified by a United employee. Depending on the country, you may not even have to wait in line to have your vaccination records reviewed.
The Travel-Ready Center is also great for finding information about local testing options. This feature is designed to help travelers save time and money while simplifying the boarding process. You can check in for a flight from another US airport or schedule a test at a testing center near you. Using the Travel-Ready Center will also help you plan your trip.
The Travel-Ready Center isn't the only new feature introduced by United. In February, they will launch a new Agent on Demand service that allows travelers to video chat with United agents about travel requirements. These agents will be able to answer questions about testing options and offer visa information. You can also check in and receive your boarding pass before you head to the airport. This feature is available to travelers 18 and older and will be expanded shortly.
United will also begin adding pre-travel COVID-19 testing capabilities in the coming months. This feature will allow customers to schedule testing at more than 15,000 clinics worldwide. You will also have the option to upload your verified vaccinations to your mobile device and receive results on the go. This is an example of how United is keeping travelers happy.
As you can see, United is working hard to make the travel preparation process easier and more efficient. With the Travel-Ready Center, you can avoid the stress of lugging your immunization records around an airport.
Vaccination testing options at Albertson Companies and Walmart
Vaccination testing options at Walmart and Albertson Companies are not limited to travel to and from your local Walmart or Albertsons. Both companies have also partnered with United Airlines to provide many services that will make your life easier and save you money on your next trip.
Walmart and Albertsons also offer free digital vaccine records available to consumers and healthcare professionals. The digital record contains all the usual medical gizmos – a patient's name, vaccine lot number, and vaccine manufacturer. They also offer a free digital wallet for customers to store health-related data in.
The record, as mentioned above, has been available for more than a year, and Walmart has now expanded the service to healthcare workers and first responders. The company is also adding more than 3,000 testing locations nationwide. Using the technology mentioned above, customers can take advantage of a free health-related mobile app that allows them to view the locations, book appointments, and receive a free mobile boarding pass when they are ready to fly.
The company also recently announced a slew of other notable firsts. For example, it was the first airline to offer pre-ordering of snacks and beverages, and it was the first airline to offer a mobile boarding pass. In addition, it recently added a new slew of flights to warmer weather destinations. It has also reopened 18 United ClubSM lounges across its domestic network. These lounges allow customers to relax and catch up with friends and family in a comfortable environment.
The company also recently announced that it had added three new transcontinental routes. As of the writing of this article, the airline had more than a hundred flights operating in warm-weather cities. In addition, it recently awarded a free flight to the grand prize winner of its "Your Shot to Fly" sweepstakes. In addition to offering a free flight, United recently announced that it is the first airline to offer customers the opportunity to pre-order snacks and beverages on its economy-class flights.
Video chat with a United customer service agent
Whether you are looking for information about your flight or need assistance rebooking your tickets, video chat with a United customer service agent can provide you with the assistance you need. This new tool lets you get your questions answered quickly and efficiently. You can access the new service at any time up to 24 hours before departure. You can also access the new agent on-demand service from your computer or mobile device.
Agent on Demand is an excellent way for customers to skip the queues at the airport information desks. With this service, customers can get answers to questions about pre-travel documentation, upgrades, seat assignments, and even in-person employees.
"Agent on Demand" is available at Houston's George Bush International Airport and Chicago O'Hare International Airport. This new virtual customer service platform will expand to United's other hubs by the end of the year. Scanning a QR code lets you connect to an agent using video chat. This service can also be accessed from self-service kiosks in some gate areas. You can also text a live customer service agent using the "chat now" feature on the United mobile app.
Agent on Demand is one of the latest technologies United has introduced to make your travel experience more convenient and safe. It reduces the time customers spend waiting for an agent, which results in faster resolution speeds and increased passenger satisfaction.
The new virtual customer service option is available at United's hub airports in Chicago (ORD) and Houston (IAH). You can access it on your mobile device, computer, or self-service kiosks. You can also access the new "Agent on Demand" service by scanning a QR code. The service is accessible in over 100 languages.
United's new customer service platform leverages Acquire's Conversational Customer Experience technology. It's easy to use and provides a more personalized, high-quality customer experience. It also enables gate agents to spend more time completing important pre-departure tasks.
Agent on Demand is available for any mobile device. Customers can use the "chat now" option to connect to an agent or call an agent to ask questions.